Ministry of Higher Education (MOHE)
The Ministry of Higher Education offers SIX (6) research grants to encourage the innovation of concepts and ideas among Malaysian researchers.
Types of MOHE Grants offered
Fundamental Research Grant Scheme (FRGS)
Research foundation to encourage researchers to produce new theories, concepts and ideas for knowledge development.

Maximum : RM250,000.00
Duration : Maximum 3 Years 
Closing Date : 16th March 2022
Prototype Development Research Grant Scheme (PRGS)
Transdisciplinary Research Grant Scheme (TRGS)
Long-Term Research Grant Scheme (LRGS)
Malaysia Laboratories for Academia-Business Collaboration (MyLAB)
Higher Education Center of Excellence (HICoE)
Call for Application of the Public-Private Research Network 2.0 for year 2023 - Phase 2/2023
PPRN is an innovative initiative of the Ministry of Higher Education to promote demand -based innovation programs in driving increased productivity and strengthening Malaysia's economic development.
PPRN has three objectives, namely:
Strengthen public -private networking through providing solutions from HEIs and PRIs to industry;
Increase productivity through innovation or appropriate technology; and
Encourage the participation of researchers to provide solutions based on industry demand
Matsumae International Foundation
DANA PENYELIDIKAN STRATEGIK 2023
The Government of Republic of Korea (ROK), in support of the Science and Technology Policy Institute (STEPI), and the Association of Southeast Asian Nations (ASEAN) recognize the importance of science, technology and innovation in promoting the economic development of nations. To this effect, an annual award is established to encourage young scientists and engineers to take on research in science, technology and innovation. The ASEAN-ROK Award for Excellence in Science, Technology and Innovation (STI) recognizes the academic and professional achievements of promising, early-career scientists and engineers of ASEAN nationality. The Award is open to professionals pursuing careers in any field of natural sciences or engineering.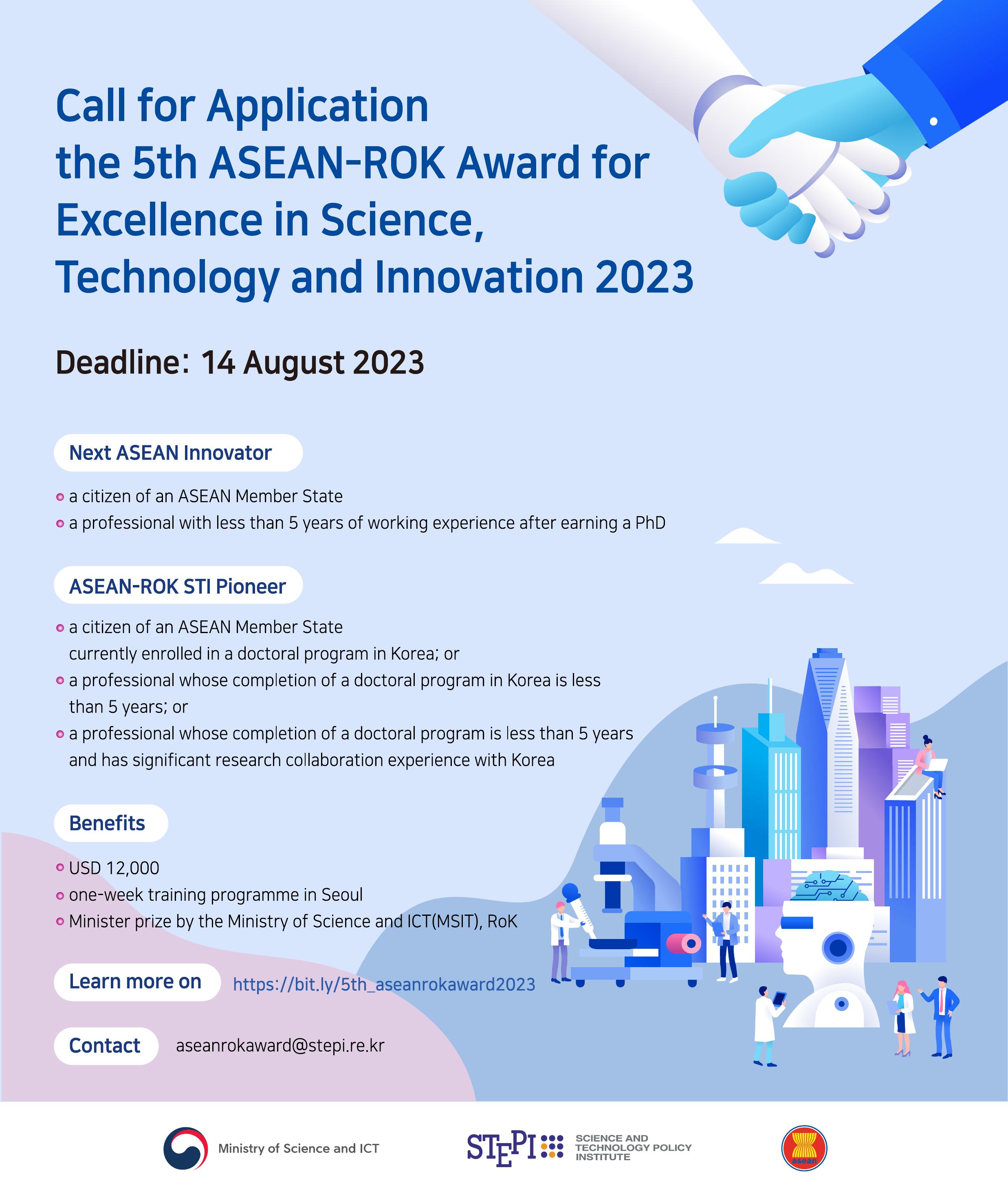 The Ministry of Science, Technology and Innovation (MOSTI) is inviting application for the Strategic Research Fund-Request For Proposal (SRF-RFP) that is currently available from
7 August 2023 to 21 September 2023:


Strategic Research Fund 1 (SRF1) - Alternative Livestock Food Income for Food Sustainability and Security 

Strategic Research Fund 2 (SRF2) - Diagnostic Sensors And Biomarkers Using Omics Technology for Emerging Disease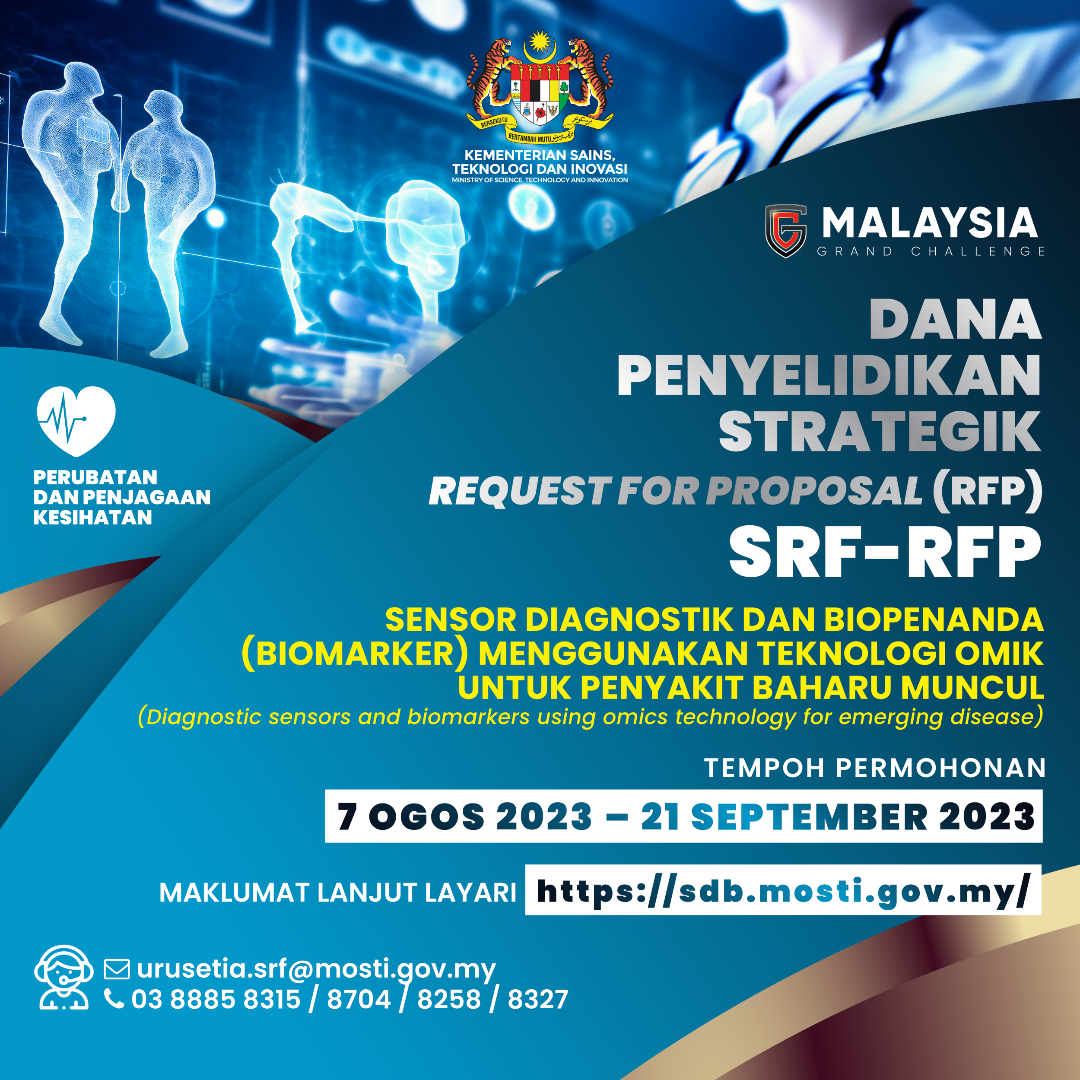 APEC SCIENCE PRIZE FOR INNOVATION, RESEARCH AND EDUCATION (ASPIRE) 2023
The APEC Science Prize for Innovation, Research and Education ("ASPIRE") is an annual award that recognises young scientific research, as evidenced by scholarly publication, and cooperation with scientists from other APEC member economies, including inclusive and interdisciplinary collaborations.

The nomination theme for ASPIRE 2023 is "Inclusive Science, Technology and Innovation for a Resilient and Sustainable Environment".
Eligibility
Any citizen of an APEC member economy.
Under 40 years old as of 31 December of that year (i.e., all 2023 nominees must be under 40 years old as of 31 December 2023).
REQUIRED DOCUMENTS IN PDF FORMAT:
Local Nomination form (Download the form provided).

Nominee's curriculum vitae.

One(1) recommendation letter to support your nomination.

A photo of the nominee (image must be larger than 250*300 pixels) *JPEG format.
Malaysian Rubber Council (MRC)
The MRC Industry Linkage Fund is a funding programme to promote collaboration between the Malaysian rubber products industry and universities/research institutions on research projects that will contribute to the development of rubber industry in Malaysia in the following areas:

a) Increase exports of rubber products and domestic consumption of rubber products produced in Malaysia;
b) Increase consumption of rubber (raw and waste/reclaimed) in new products development; or
c) Facilitate the manufacturing process of rubber products.

Learn more about the Malaysian Rubber Council (MRC).
Geran Collaborative Research Programme (CRP) – ICGEB Research Grants dan CRP-ICGEB Early Career Return Grants for year 2023
ICGEB has announced call for applications for the Collaborative Research Program (CRP) – ICGEB Research Grants and CRP-ICGEB Early Career Return Grants for the year 2023. The areas of research focus are: 
Basic Life Sciences

Human Healthcare;

Industrial & Agricultural Biotechnology; 

and

Bioenergy.
For further information regarding eligibility and criteria: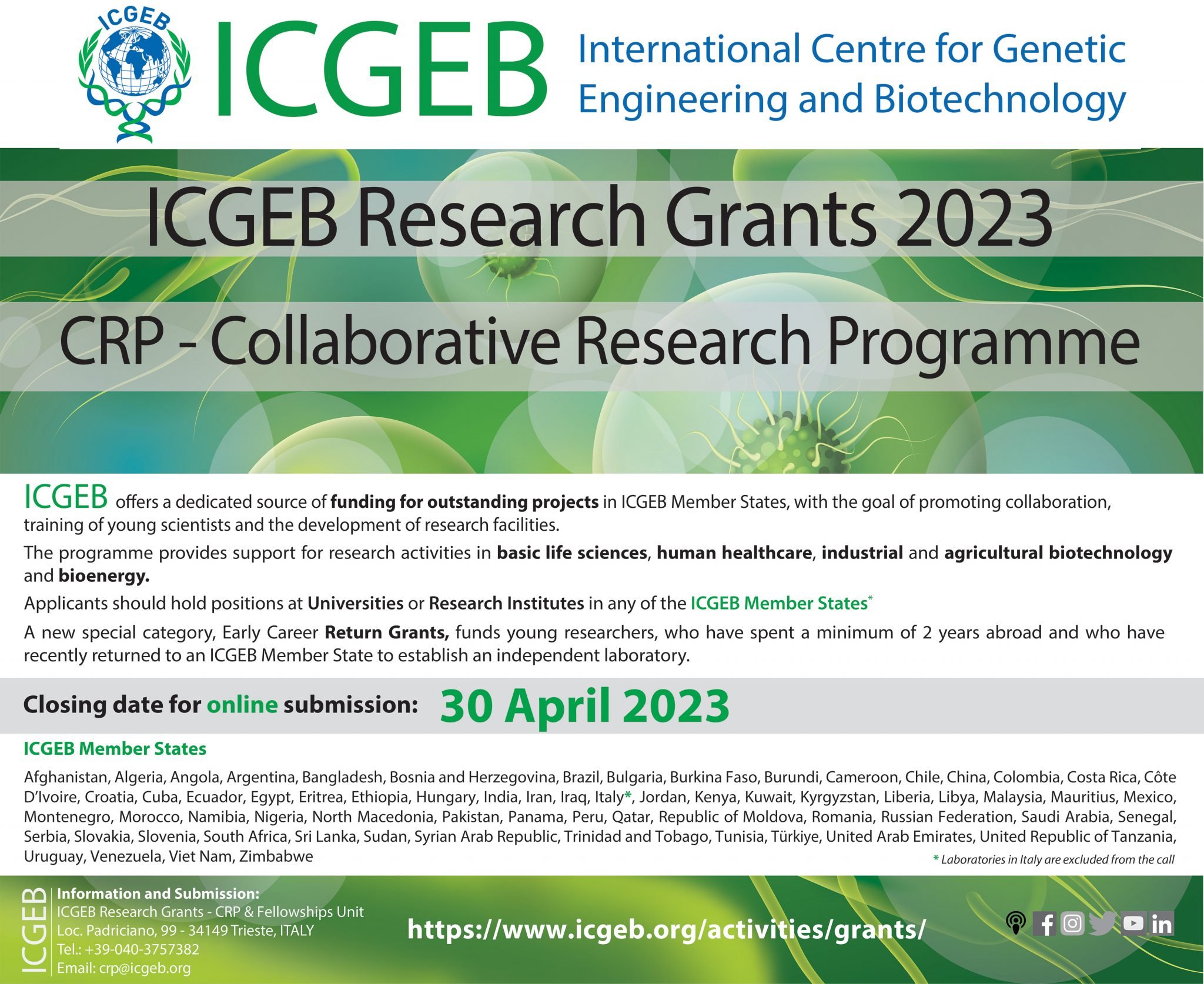 Announcement of Malaysia Toray Science Foundation Year 2023 Programme
Malaysia Toray Science Foundation
  (MTSF) is inviting researchers to submit for grants and award for MTSF year 2023 program. The awards and grants available which are relevant to our researchers are as follows:
1. MTSF Science & Technology Award (STA) - to recognize Malaysian scientists for their outstanding achievements and accomplishments.
2. MTSF Science & Technology Research Grant (STRG) - to provide financial assistance to deserving young Malaysian researchers, below 40 years of age, to undertake basic research at local universities/institutions
Interested researchers may visit https://www.mtsf.org/ for further information
The Hamish Ogston Foundation
Sarawak Research Development Council (SRDC) Funding
The SRDC Grant Scheme aims to encourage high-quality research in Sarawak through competitive funding and stringent performance monitoring.
The general criteria to be eligible for the grant are as below:
Research in Science and Technology (excluding digital and ICT)
All research and development institutions/agencies in Sarawak are eligible to apply
Research activities must be located in Sarawak
Sarawakian and non-Sarawakian researchers, based in Sarawak
CSR/community engagement type projects are not eligible
Focused and output-driven research, with clear outcomes.
Information on the latest news and announcement may be obtained from the SRDC official website: