Seoul International Invention Fair (SIIF) 2022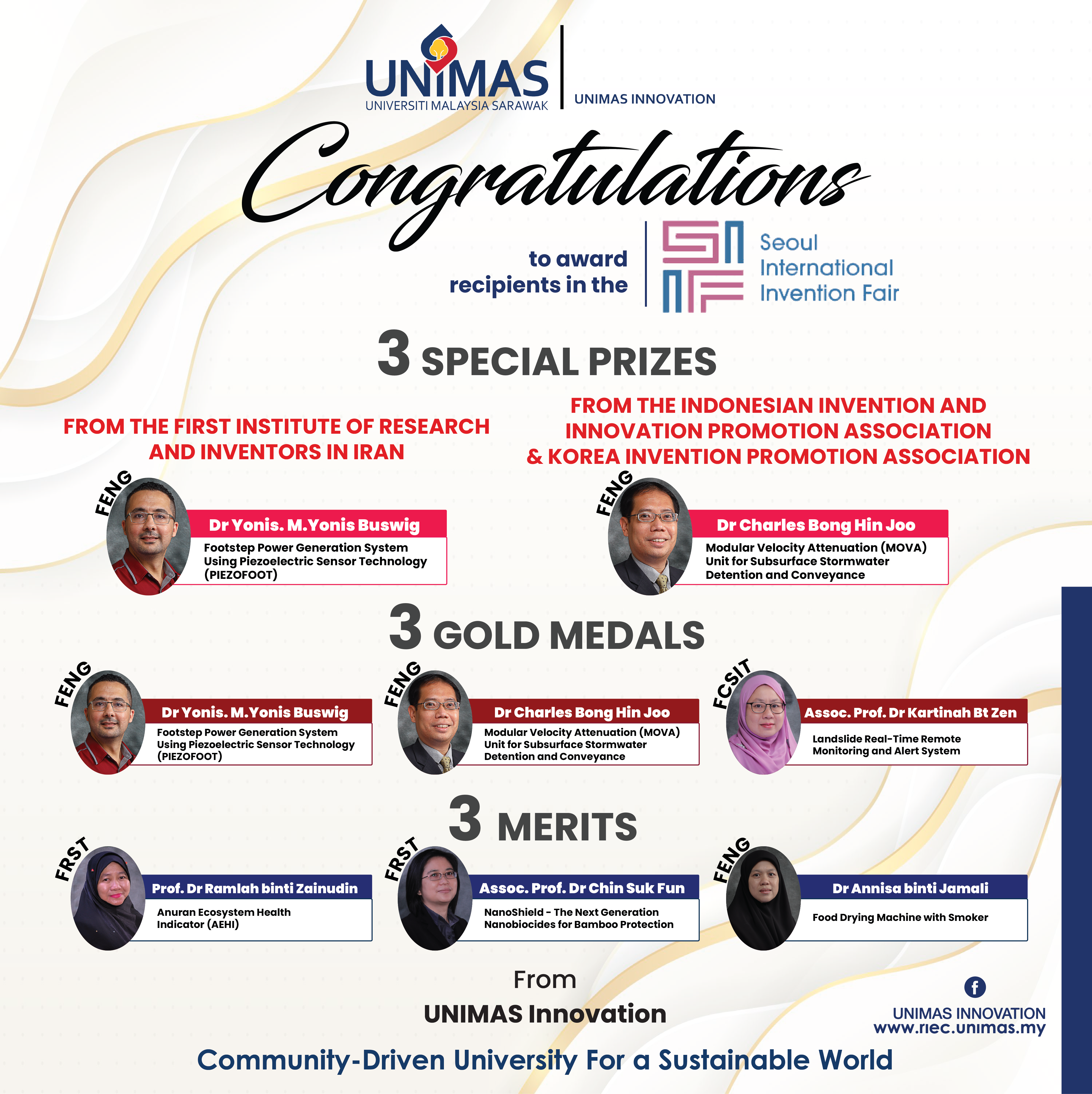 Congratulations to our Researchers at Seoul International Invention Fair (SIIF) 2022
It is with great pleasure to share that our researchers attained 3 special prizes, 3 gold medals and 3 merit from 6 research projects participated in the Seoul International Invention Fair (SIIF) 2022.
Our sincere appreciation to YBhg Datuk VC and YBhg Prof Wan Hashim for your support as well as valuable suggestions prior to the submission of projects to SIIF2022.
For your information, SIIF2022 had attracted 404 entries from 11 countries. Malaysia was represented by 8 IHL/RI, namely UTM, UiTM, UniMAP, UMP, MSU, MARDI and CEGeoTech, other than UNIMAS.
Below are innovations from UNIMAS and their awards:
Congratulations UNIMAS Researchers
SPECIAL PRIZE (IRAN)
Dr Yonis M. Yonis Buswig (FK): Footstep Power Generation System Using Piezoelectric Sensor Technology (PIEZOFOOT)
SPECIAL PRIZE (INDONESIA)
Dr Charles Bong Hin Joo (FK): Modular Velocity Attenuation (MOVA) Unit for Subsurface Stormwater Detention and Conveyance
SPECIAL PRIZE (KOREA)

Dr Charles Bong Hin Joo (FK): Modular Velocity Attenuation (MOVA) Unit for Subsurface Stormwater Detention and Conveyance
GOLD MEDAL
Dr Yonis M. Yonis Buswig (FK): Footstep Power Generation System Using Piezoelectric Sensor Technology (PIEZOFOOT)
Dr Charles Bong Hin Joo (FK): Modular Velocity Attenuation (MOVA) Unit for Subsurface Stormwater Detention and Conveyance
Assoc Prof Dr Kartinah Zen (FSKTM): Landslide Real-Time Remote Monitoring and Alert System
MERIT
Prof Dr Ramlah Zainudin (FSTS): Anuran Ecosystem Health Indicator (AEHI)
Assoc Prof Dr Chin Suk Fun (FSTS): NanoShield - The Next Generation Nanobiocides for Bamboo Protection

Dr Annisa Jamali (FK): Food Drying Machine with Smoker
SPECIAL PRIZE (IRAN) Dr Yonis M. Yonis Buswig (FK): Footstep Power Generation System Using Piezoelectric Sensor Technology (PIEZOFOOT)
SPECIAL PRIZE (INDONESIA) Dr Charles Bong Hin Joo (FK): Modular Velocity Attenuation (MOVA) Unit for Subsurface Stormwater Detention and Conveyance
SPECIAL PRIZE (KOREA) Dr Yonis M. Yonis Buswig (FK): Footstep Power Generation System Using Piezoelectric Sensor Technology (PIEZOFOOT)
GOLD MEDAL Dr Yonis M. Yonis Buswig (FK): Footstep Power Generation System Using Piezoelectric Sensor Technology (PIEZOFOOT) Dr Charles Bong Hin Joo (FK): Modular Velocity Attenuation (MOVA) Unit for Subsurface Stormwater Detention and Conveyance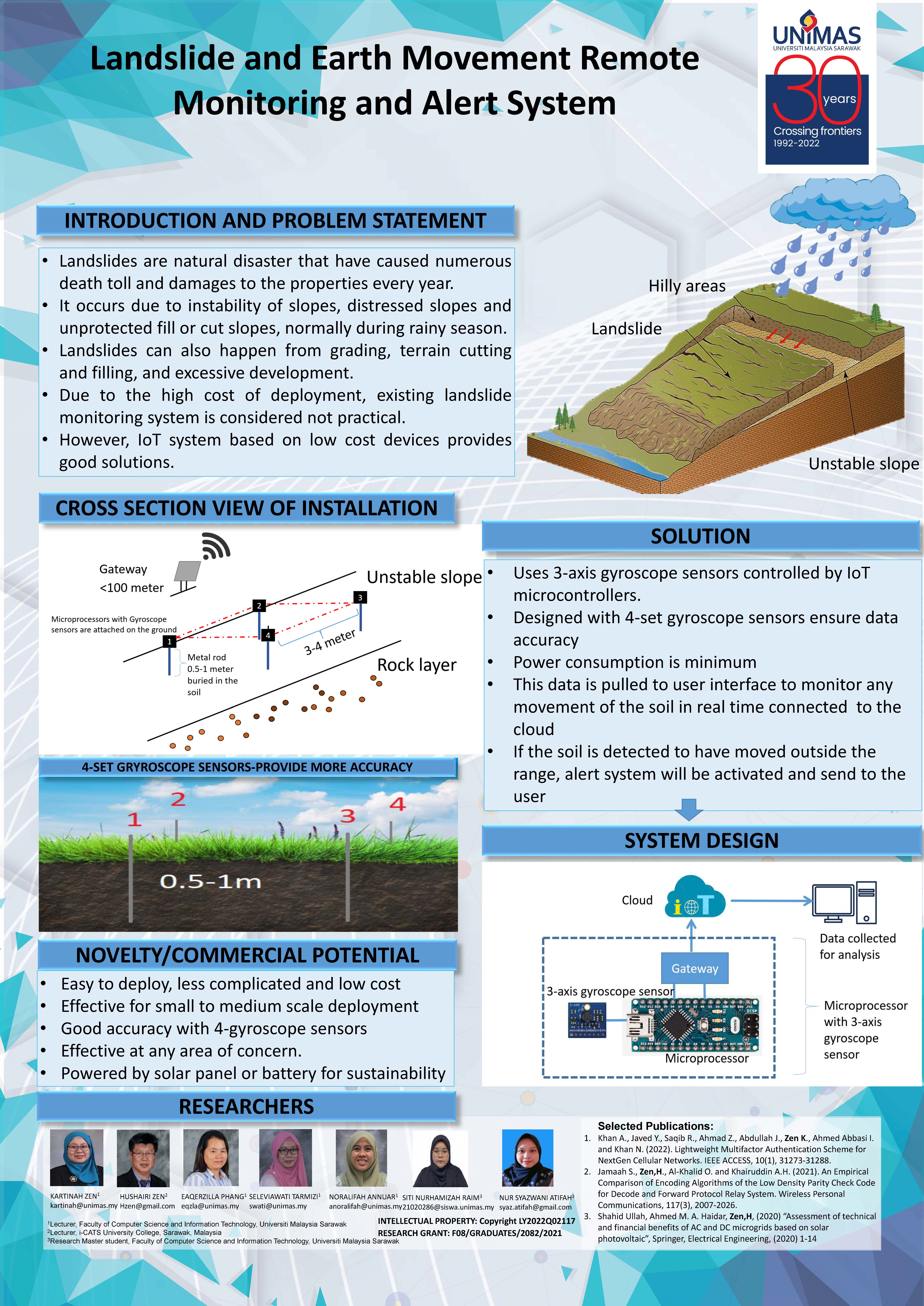 Assoc Prof Dr Kartinah Zen (FSKTM): Landslide Real-Time Remote Monitoring and Alert System
MERIT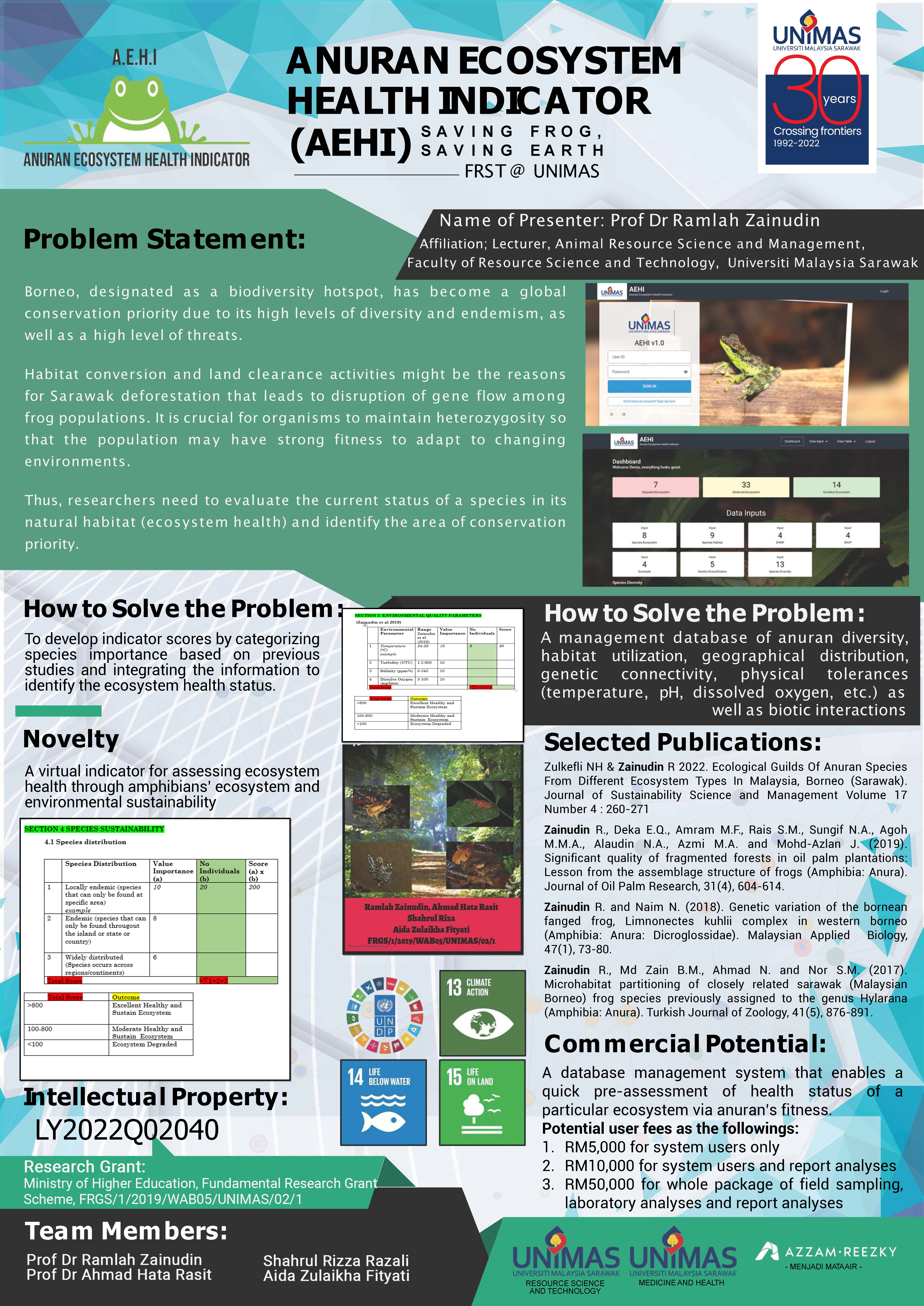 Prof Dr Ramlah Zainudin (FSTS): Anuran Ecosystem Health Indicator (AEHI)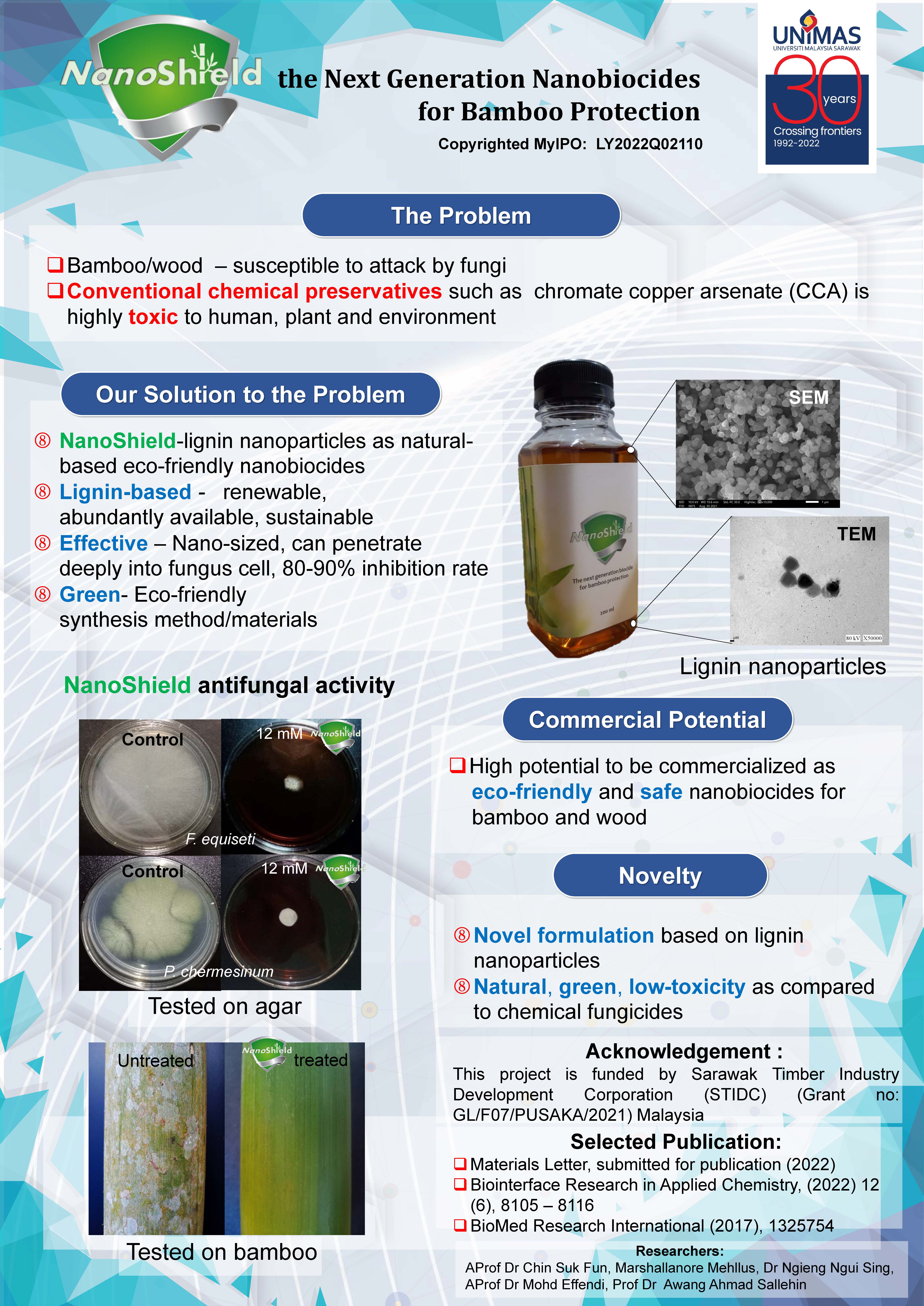 Assoc Prof Dr Chin Suk Fun (FSTS): NanoShield - The Next Generation Nanobiocides for Bamboo Protection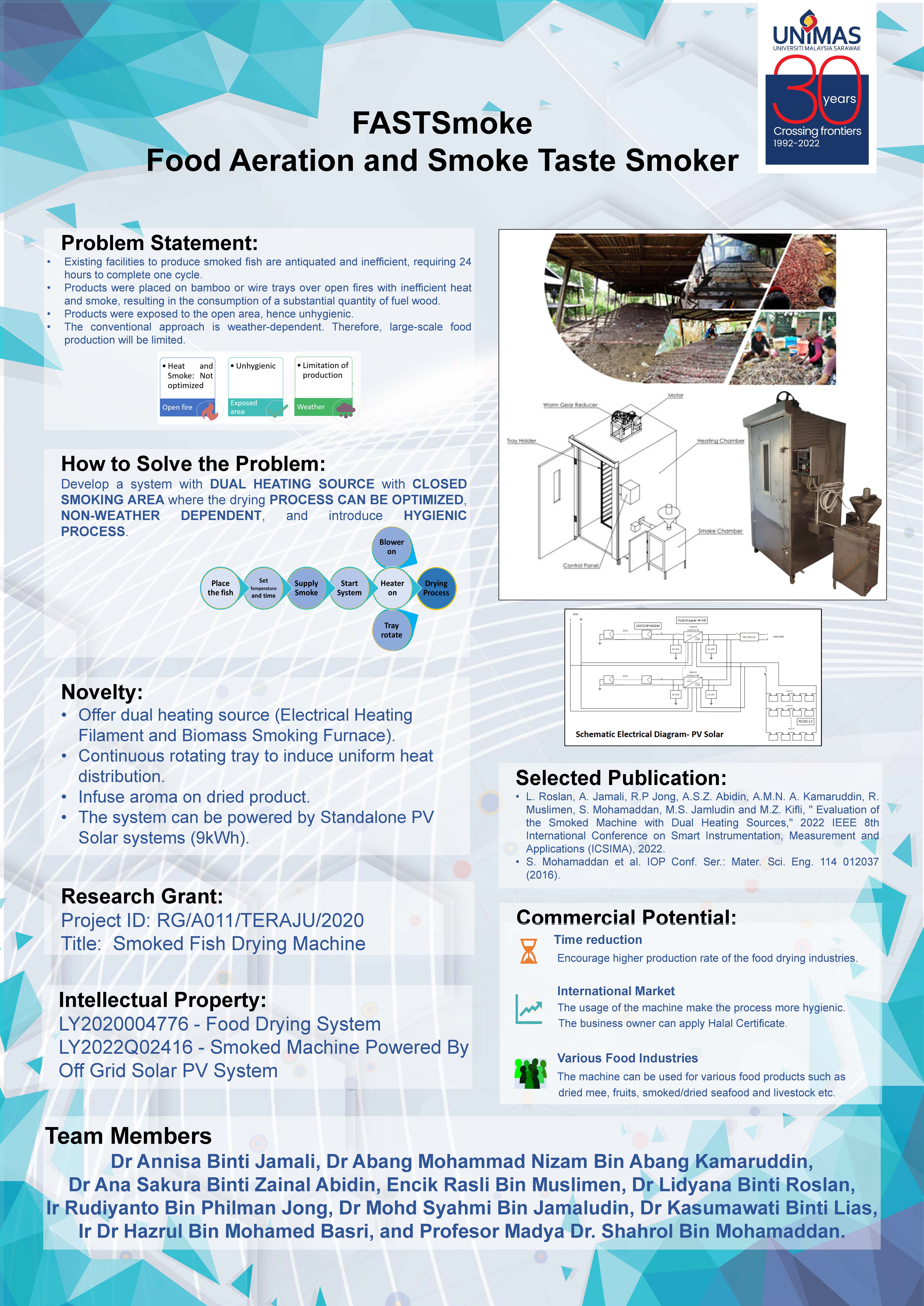 Dr Annisa Jamali (FK): Food Drying Machine with Smoker