International Conference and Exposition on Inventions by Institutions of Higher Learning (PECIPTA)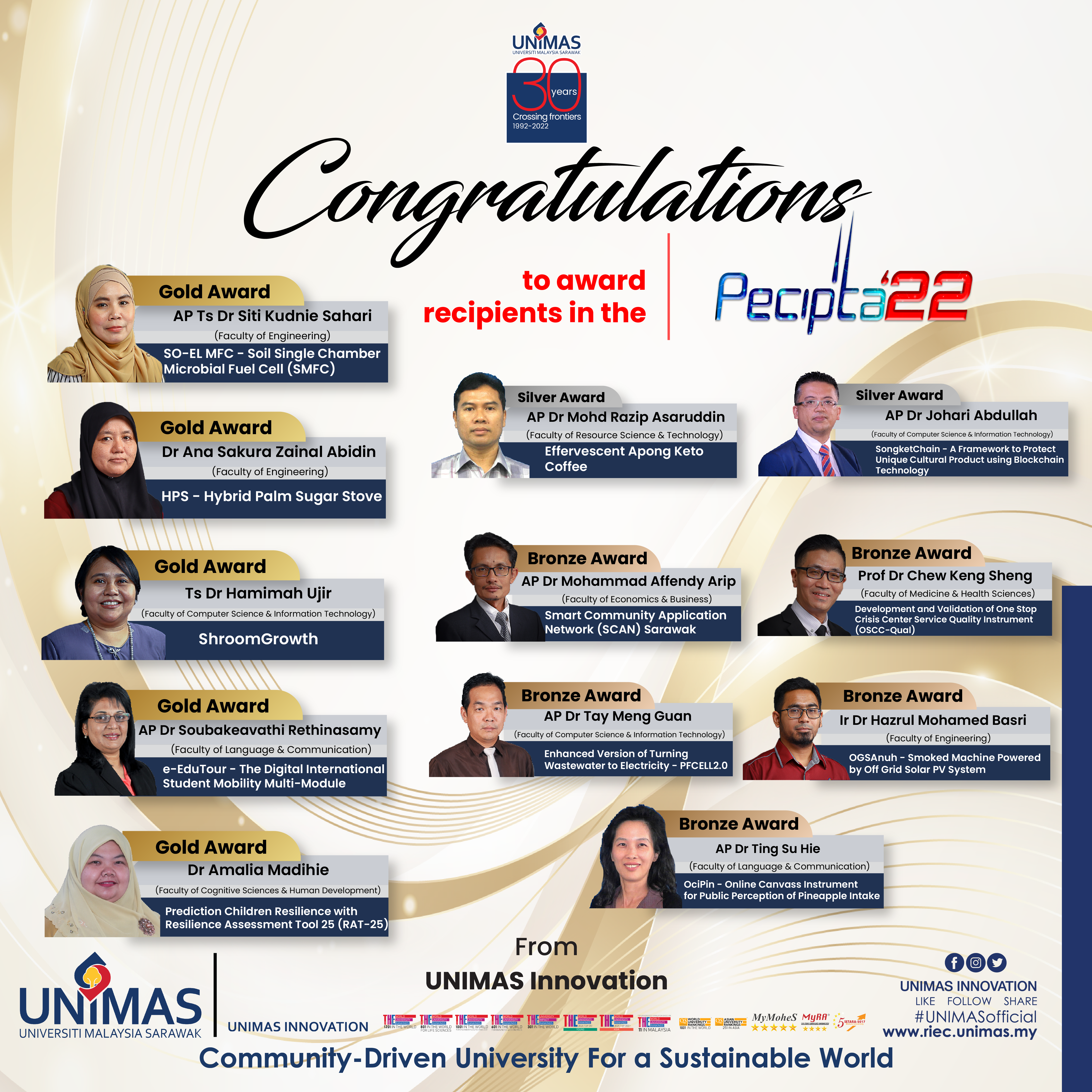 Congratulations to our Researchers at the International Conference and Exposition on Inventions by Institutions of Higher Learning (PECIPTA)
It is with great pleasure to share that our researchers attained 5 gold, 2 silver and 5 bronze medals from 12 research projects participated in the International Conference and Exposition on Inventions by Institutions of Higher Learning (PECIPTA'22), at Universiti Malaysia Kelantan (UMK), Bachok Campus, from 1-3 November 2022.
PECIPTA'22 is a biannual program organized by Ministry of Higher Education Malaysia together with its partner institutions of higher learning. UMK is selected to co-host the 11th PECIPTA.
Our sincere appreciation to YBhg Datuk VC and YBhg Prof Wan Hashim for your support as well as valuable suggestions prior to the submission of projects to PECIPTA'22.
PECIPTA'22 had attracted 433 entries from 20 IPTAs & 23 IPTSs. Below are innovations from UNIMAS and their awards:
Congratulations UNIMAS Researchers
GOLD MEDAL
Assoc Prof Ts Dr Siti Kudnie Sahari (FK): SO-EL MFC - Soil Single  Chamber Microbial Fuel Cell (SMFC)
Assoc Prof Dr Soubakeavathi Rethinasamy (FBK): e-EduTour - The Digital International Student Mobility Multi-Module
Ts Dr Hamimah Ujir (FSKTM): ShroomGrowth
Dr Amalia Madihie (FSKPM): Prediction Children Resilience with Resilience Assessment Tool 25 (RAT-25)
Dr Ana Sakura Zainal Abidin (FK): HPS - Hybrid Palm Sugar Stove
SILVER MEDAL
Assoc Prof Dr Mohd Razip Asaruddin (FSTS): Effervescent Apong Keto Coffee

Assoc Prof Dr Johari Abdullah (FSKTM): SongketChain - A Framework to Protect Unique Cultural Product using Blockchain Technology
BRONZE MEDAL
Assoc Prof Dr Mohammad Affendy Arip (FEP): Smart Community Application Network (SCAN) Sarawak
Prof Dr Chew Keng Sheng (FPSK): Development and Validation of One Stop Crisis Center Service Quality Instrument (OSCC-Qual)
Assoc Prof Dr Tay Meng Guan (FSTS): Enhanced Version of Turning Wastewater to Electricity - PFCELL2.0
Assoc Prof Dr Ting Su Hie (FBK): OciPin - Online Canvass Instrument for Public Perception of Pineapple Intake
Ir Dr Hazrul Mohamed Basri (FK): OGSAnuh - Smoked Machine Powered by Off Grid Solar PV System
SO-EL SFMC A solution to Protect our Environment by Assoc Prof Ts. Dr Siti Kudnie bt Sahari
e-EduTour:The Digital International Student Mobility Multi-Module by Assoc Prof Dr Soubakeavathi Rethinasamy
ShroomGrowth by Ts Dr Hamimah Ujir
Prediction Children's Resilience with Resilience Assessment Tool 25 (RAT-25) by Dr Amalia Madihie
Hybrid Palm Sugar Stove by Dr Ana Sakura and Mr Rasli Muslimen
Effervescent Apong Keto Coffee by Assoc Prof Dr Mohd Razip Asaruddin
SongketChain by Assoc Prof Dr Johari Abdullah
Smart Community Application Network System (SCANS) by Assoc Prof Dr Mohammad Affendy Arip
One Stop Crisis Center Service Quality Instrument (OSCC-Qual) by Prof Dr Chew Keng Sheng
Enhance Version of Turning Wastewater to Electricity : PFCell 2.0 by Assoc Prof Dr Tay Meng Guan
Online Canvass Instrument for Public Perception of Pineapple Intake by Assoc Prof Dr Ting & Prof Dr Edmund
Smoked Machine Powered by Off Grid Solar PV System by Ir Dr Hazrul bin Mohamed Basri